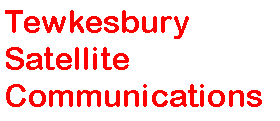 System Engineering
TSC can assist you with most aspects of the design of your satcom system architecture. Below are just a few examples of how we can help:
Requirements capture
System analysis and architectural design
Functional partitioning of RF-hardware, digital hardware, firmware, DSP and real-time embedded software
Design for manufacture of systems and hardware modules
Specification and integration of 3rd-party hardware, firmware & software modules
System signal levels and link budgets, EIRP control, G/T specification
Control of mechanically steered and phased-array antenna systems
TSC has specialist knowledge and a wealth of experience in the design of physical layers for satellite communication systems, using a wide variety of DSP and FPGA-based architectures.
DSP algorithm development & real-time implementation
Modulation, acquisition, demodulation, channel-equalisation
Optimal symbol-timing, amplitude, frequency and phase tracking
FEC coding, Viterbi and Turbo decoding
AGC, AFC, Doppler compensation, clock-steering, antenna control
Transmitter calibration, pre-distortion & stability over frequency and temperature
Precise time-synchronisation of transmitter/receiver for TDMA systems
Please e-mail us or call us on +44 (0)7765 552689 for help with any aspect of satcom system engineering or physical layer design.